In my previous
post
I provided a brief review of the new Farahbakhsh specialized catalog for the Stamps of Iran. This post I am going to provide a brief review of the latest edition of the Unitrade Specialized Catalog of Canadian Stamps, the other specialized catalog that I recently purchased.
If there is any specialized catalog that deserves to be considered the "Gold Standard" of what a specialized catalog should be then the Unitrade, in my opinion, is the one that does it. It is simply a joy to own, and designed with an eye to being something a collector will make use of every day, not just as an occasional reference.
To start off with, this book is a TOME. Almost 725 pages, and high quality pages at that, with full color illustrations on a heavier than average paper stock. Also, the catalog is spiral bound, not solid-bound, which makes for much greater flexibilty in keeping the catalog open to where you need it, something that many other catalogs simply are terrible at when trying to use for more than a quick reference.
Another benefit for the North American collector, Unitrade licenses the Scott catalog numbering system as the base for its catalog database. This means that for collectors of Canada here in the USA, there is no problem with catalog number translation at the basic level. Canada #1 in Scott is Canada #1 in Unitrade.
But from that solid base, Unitrade takes its listings to a whole different level of information that even makes what Scott does with the USA Specialized catalog seem, in some ways, like nothing more than an intermediate level reference.
The catalog starts with the issues of the Province of Canada in 1851, with the iconic 3-penny Beaver stamp. But we don't just get a beaver (hmm that doesn't sound right...), with a couple varieties as the Scott Specialized Catalog 1840-1940 provides. Oh no, that is just 3-penny Beaver 101, as you can see below. [Apologies for the scans, the pages of the catalog are slightly bigger than the bed of my scanner, and the spiral binding added additional difficulties in trying to capture as much of a page image as possible.]
Enough beavers to dam up a river in central Nunavut! And there plenty more on the next pages with the Wove paper issue, with sixteen varieties of the 3-penny listed.
And it's not just the classic issues that get the kind of attention to varieties, color shades, plate flaws and so forth. Fancy your Admirals??
or perhaps your tastes run to the more modern, such as the Landscape defins of the early 1970s
and even contemporary Canadian issues from the past couple decades get plenty of specialized love from the Unitrade editors...
Commemoratives aren't ignored either, with information on print runs, value of First Day Covers, and any varieties produced all provided.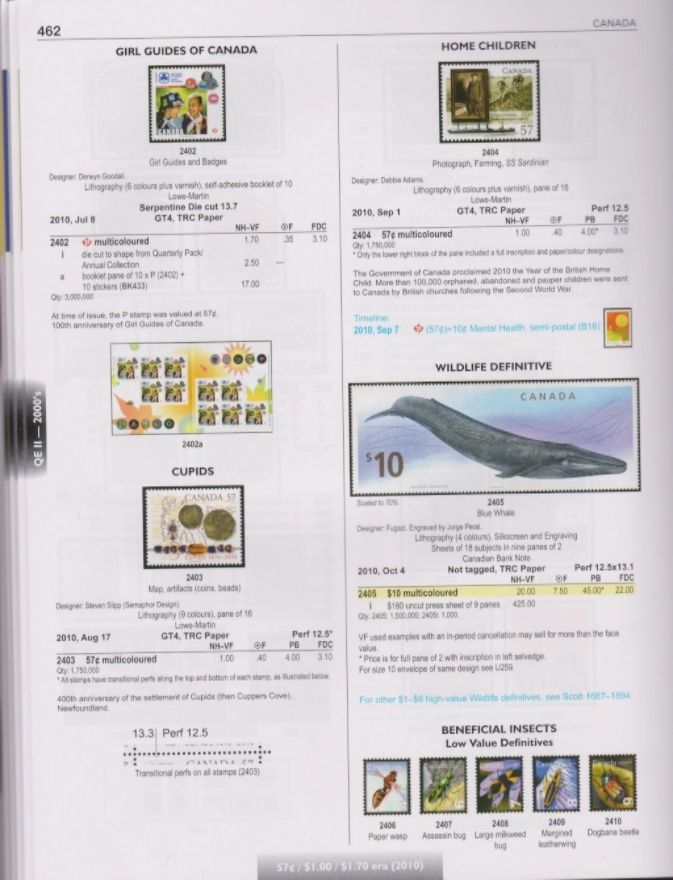 Perhaps back of the book issues are more to your liking. Unitrade has you covered, and how
plus there is a great section on the private airmail issues from the 1920s as the new technology of aviation and its utilization to deliver the mails was adopted to help overcome the vastness of the Canadian wilderness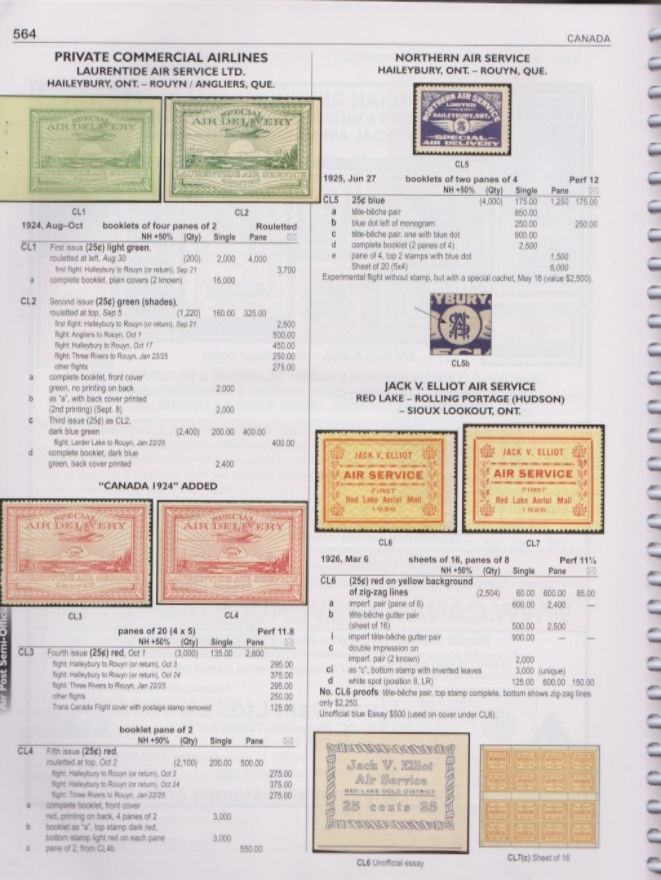 And of course there are the provincial issues for those provinces that were separate colonial administrations before their accession to the Dominion. Unitrade provides full coverage for this material as well, including things like numeral cancellation rarity guides for each colony (and for early Canada as well)
And then there is of course Newfoundland, which has its own very dedicated collector base and issued its own stamps until it voted to join Canada (just barely) in a 1949 referendum.
Again Unitrade's level of detail on varieties is simply amazing, perhaps for some even overwhelming.
This catalog is simply a pure philatelic joy to own. If every nation had a specialized catalog that combined the level of detail on varieties and specialist material with the physical production quality that the Unitrade 2016 provides with its heavy full color pages and spiral binding, more collectors would definitely consider purchasing these catalogs.
It is exactly because of catalogs such as Unitrade that I am such a fan of specialized stamp catalogs, and the information they contain provide collectors with so many new collecting vistas to explore once they complete (or near completion within their budget) the basic collection.